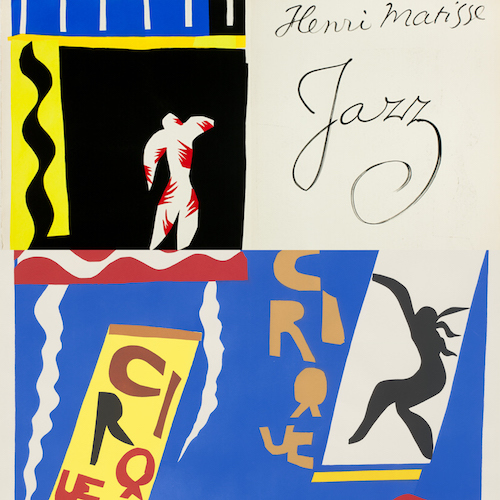 09/30/2022
Special Announcement: Rhythm and Meaning, our Reopening Exhibition!
75 years ago today, Henri Matisse's Jazz was published for the first time in an edition of just 250 copies. This groundbreaking artist's book has been inspiring readers, writers, and artists ever since, and we are thrilled to be displaying Matisse's Jazz illustrations in full once we reopen in November!
The exhibition, Rhythm and Meaning, will explore Jazz as an intermingling of the written word, bound volume, and work of art. This will be the first time all 20 of Jazz's illustrations have been exhibited in Philadelphia since the mid-20th century. This exhibition will be free and open to all of Philadelphia's book lovers to enjoy. We can't wait for you to stop by!
Special thanks to Athenaeum members Frances and Michael Baylson, who have generously lent their copy of Jazz for display.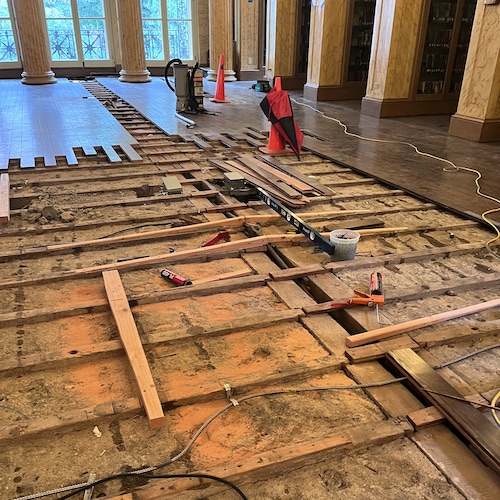 09/20/2022
Shims Added to the Reading Room Floor
Over the course of construction so far, plenty of people have asked us: "Have you encountered any surprises while renovating the building?" Fortunately, any surprises our contractors have come across are fairly interesting—and at worst, are easy fixes!
One such surprise has been the discovery that one of the iron bolts used to support the Reading Room gradually popped up over time as the timbers surrounding it shrank, causing an unmistakeable lump in the floor. You probably never noticed it, however, since someone strategically placed an antique globe over the lump long ago! In order to alleviate the issue, our contractors have laid wooden shims over the original timbers to create a more gradual slope. Once the floorboards are returned to their original place, the lump will be less noticeable. We'll have a reading table placed over it to prevent any tripping hazards—but see if you can spot the slope once we reopen!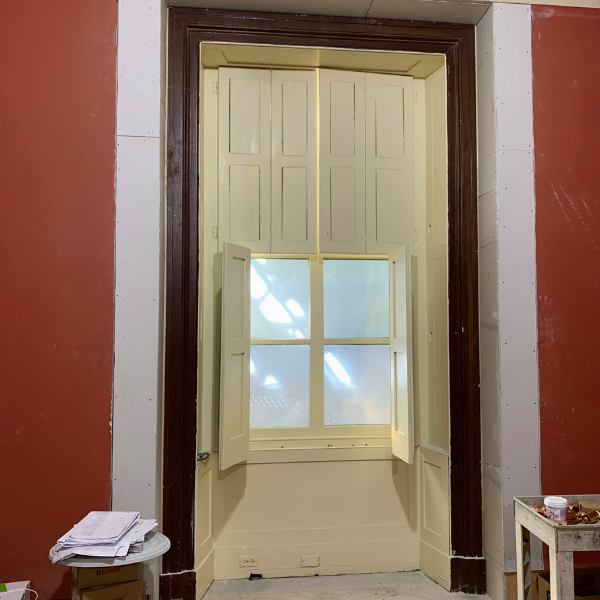 09/08/2022
Gallery Windows Revealed
"What light through yonder window breaks..."
That would be the light from Washington Square Park. If you've ever been inside The Athenaeum's Haas Gallery, you would have seen four walls adorned with paintings, photographs, architectural drawings and maps. But from the the outside...is that a window? And from the stairwell, another? Yes!
One of the most obvious changes to our first floor gallery is the opening of the two windows; one that looks out onto 6th Street with a view of Washington Square, and one that opens to our grand stairway, letting light in from the clerestory. These changes will enhance the gallery experience by brightening and opening the space. They will also open the Athenaeum to the neighborhood by allowing a sneak peak of our amazing exhibitions from the street.
Stay tuned for information on the exciting exhibition we have planned for our reopening!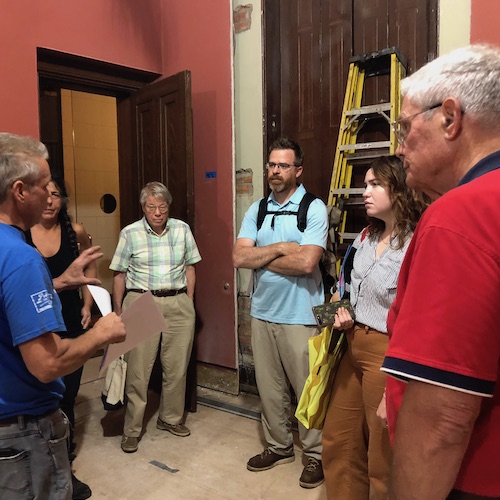 08/29/2022
Architectural Team Highlight, Part 3: A 21st Century Athenaeum, in KieranTimberlake's Words
Scroll down to see August 8th and 15th's posts for parts 1 and 2 of our series highlighting members of the 21st Century Athenaeum's architectural team. For the 3rd and final post in this series, we asked the KieranTimberlake team for an architect's perspective on the ongoing renovations they helped us plan:
"KT has enjoyed working with the dedicated Athenaeum leadership and staff members to enhance the design and quality of the existing building. From the beginning, the goal was to work carefully within the existing building design to improve the member, visitor, and staff experience, starting with the first impression as one walks through the door. How might we create more presence on the street? Where and how should we target improvements to maximize the impact with minimal disruption to the historic building? How might key spaces within the Athenaeum evolve to advance the Athenaeum's capacity to build a vibrant community, fostering discourse and the pursuit of knowledge? 
The modifications currently underway begin with a more expansive and welcoming entry and reception area for everyone, directly from the front door and adjacent to the Haas Gallery, providing new places to meet, socialize and relax. The new reception and lounge, coupled with improvements to the gallery lighting, seating, and finishes, will enhance the quality and atmosphere to present, view, and share the collection and other works of art. We have also carefully uncovered historic windows along the ground floor to 6th street and the park, expanding the visual connectivity to the gallery and new lounge with the street and park, revitalizing the dialogue between the city and the Athenaeum. These targeted and impactful improvements on the first level will welcome the community into a new sequence of rooms that are emblematic of the Athenaeum's mission to nurture one's curiosity and strengthen community through learning and discourse.    
The second-floor reading room, a gem of a space in the city, is flooded with natural light and layered with 175 years of history. In a space of this inherent quality, the role of the design is to be quiet and subtle, carefully inserting support for everyday activities while honoring the existing fabric. Improved seating options and worktables, lighting, and more electrical outlets will provide members additional comfort, convenience, and enjoyment.  
In addition to improvements for members and visitors, the third-floor workplace areas for staff are also being updated with new furniture and other improvements to ensure a comfortable, functional, and well-organized environment. A commitment to the team, their ongoing contributions, and their capacity to enrich the Athenaeum with creativity, focus, and dedication."   
Image: Athenaeum staff and Board members meet with KieranTimberlake staff and Haverstick-Borthwick contractors for a weekly construction progress meeting.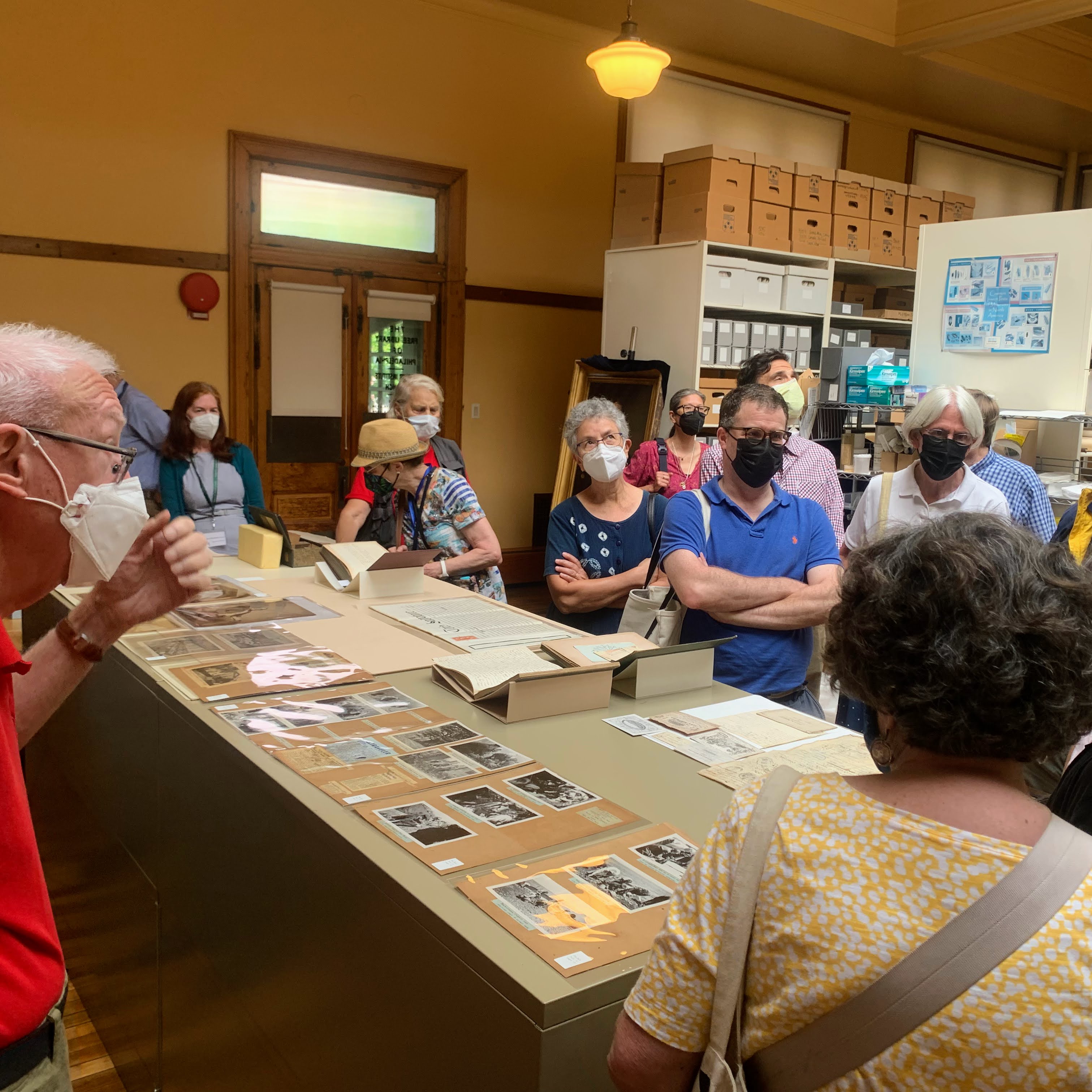 08/26/2022
Athenaeum Members Visit to the Wagner Free Institute of Science
On Friday, August 26, a group of Athenaeum Members paid a visit to the Wagner Free Institute of Science. The group got a brief lecture on the history of William Wagner and the early days of the institute in their lecture hall, followed by a view of their library, complete with a few special items on display. Last, the upstairs museum, which contain Wagner's collection of everything from the tiniest of minerals, to an entire horse skeleton!
Like the Athenaeum, the Wagner comes from a time in Philadelphia's history where knowledge and learning were of upmost importance. The building, also a National Historic Landmark, looks nearly identical to how it looked when it opened in 1865. Whether you're a lover of Philadelphia, history, science, or all three, the Wagner is well worth a visit, it's truly one of Philadelphia's greatest gems!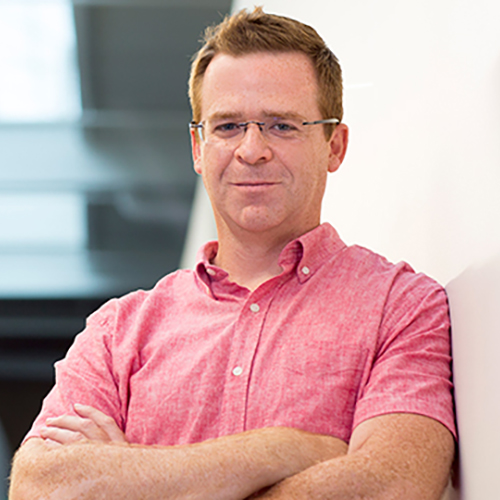 08/15/2022
Architectural Team Highlight, Part 2: Andrew Cronin, KieranTimberlake
Scroll down to see August 8th's post for part 1 of our series highlighting members of the 21st Century Athenaeum's architectural team.
While the many enhancements proposed and refined by KieranTimberlake are taking shape now, we would like to focus on team members who have worked tirelessly to improve your Athenaeum!
Over the last two decades, Andrew Cronin, team leader, has focused on campus renovation projects including the Morse and Ezra Stiles Colleges at Yale University and Lowell House at Harvard University. He served as the Project Architect for the Consortium for Building Energy Innovation, a retrofit of a former recreation facility at the Philadelphia Navy Yard. Andrew was also the Project Architect for High Horse Ranch, a sustainable, award-winning private home in rural Northern California, and Congregation Rodeph Shalom, a renovation and addition that expanded a historic Philadelphia synagogue to accommodate its growing congregation.
The full project team is listed below. Many thanks to each team member for their care and consideration in envisioning a 21st Century Athenaeum!
Full KT Project Team:
Matt Krissel, AIA, Partner* **
Stephen Kieran, FAIA, Partner
Andrew Cronin, AIA, Principal* **
Tim Peters, AIA, Principal
Leah Kendrick, Architectural Staff**
Elizabeth Harris, Architectural Staff**
* Indicates project team leads.
** Indicates actively working on the project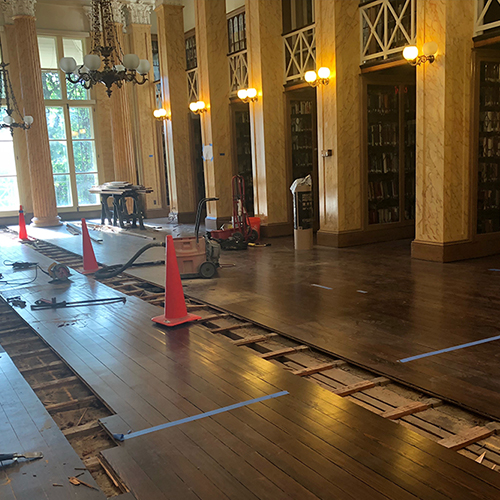 08/12/2022
Floorboards Raised in the Reading Room
Work began this week in the Reading Room to raise the floorboards and add new electrical wiring throughout the space. Bringing electricity up through the floor creates minimal disturbance to the appearance of the Reading Room, but maximum impact for our members once the space reopens! New and improved electrical access throughout the Reading Room will allow members to write their next novel, tackle a work project, or listen to an audiobook without worry for their device's battery life. Once electrical work is complete, the floorboards will be restored to their original position. To learn more about the improvements in the works in the Reading Room, visit our 21st Century Athenaeum campaign page.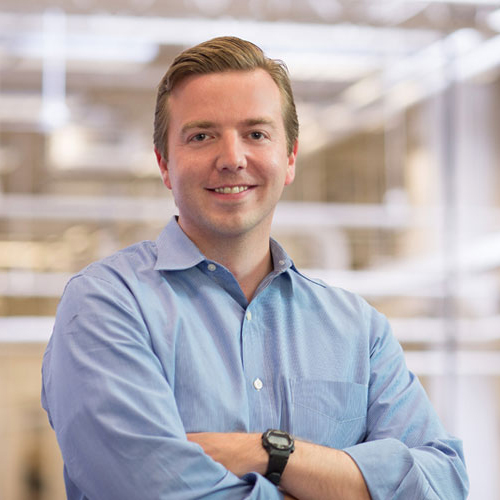 08/08/2022
Architectural Team Highlight, Part 1: Matt Krissel, KieranTimberlake
Since 2018, Athenaeum Staff and Board members have worked with the Philadelphia-based architectural firm KieranTimberlake to develop a plan for maintaining and enhancing the distinctive beauty of our Italianate Revival space. Four years into the process, this plan is underway as the 21st Century Athenaeum Campaign.
While the many enhancements proposed and refined by KT are taking shape now, we would like to highlight team members who have worked tirelessly to improve your Athenaeum! Stay tuned for part 2 of this series of posts.
Matthew Krissel, team lead, is an architect and partner at KieranTimberlake. He designs places, buildings, and environments, connects people with ideas, and creates new methods and platforms for thinking and making.  He has combined his interest in computation and technology with a deep understanding of how to connect people, programming, and design aspirations in a handful of notable projects. As the chair of KieranTimberlake's Digital Design Visioning Group, Matthew helps foster digital innovation, visualization, and knowledge sharing throughout the firm. He has lectured at AIA Technology in Architectural Practice (TAP), AIA Committee on Design, Facades+, Harvard University, National Institute of Building Sciences, and elsewhere. 
The full project team is listed below. Many thanks to each team member for their care and consideration in envisioning a 21st Century Athenaeum!
Full KT Project Team:
Matt Krissel, AIA, Partner* **
Stephen Kieran, FAIA, Partner
Andrew Cronin, AIA, Principal* **
Tim Peters, AIA, Principal
Leah Kendrick, Architectural Staff**
Elizabeth Harris, Architectural Staff**
* Indicates project team leads.
** Indicates actively working on the project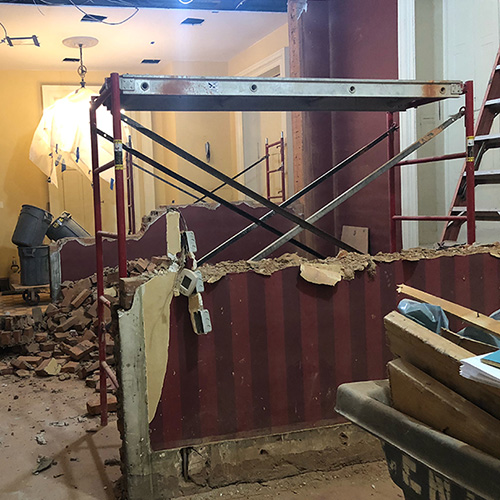 07/26/2022
Demolition Begins on the Athenaeum's First Floor
As part of the 21st Century Athenaeum Campaign, demolition has begun to create a beautiful new lounge, which will more than double space for our members on the building's first floor. Our general contractor for this campaign is Haverstick-Borthwick, a PA-based firm that has undertaken countless construction and restoration projects in the Philadelphia area for 100 years.
Haverstick-Borthwick's Principal, Bill Cobb, has worked at the company for more than 50 years and oversees all of its projects and clients, including the University of Pennsylvania, the Curtis Institute of Music, the Pennsylvania Academy of Fine Arts, Merck, Verizon, and many more. Cobb has been HB's president since 1984, during which time he has built relationships with repeat clients and cultivated extensive involvement with the Philadelphia-based General Building Contractors Association.
One of HB's Project Managers is Edward Weinlein, who brings a wealth of historic construction and restoration experience to the Athenaeum. Weinlein's projects include St. Peter's Church and Christ Church, just steps away from Washington Square. He has worked at the firm for over 30 years.
John Farrell another Project Manager, has won awards from the Preservation Alliance of Philadelphia and the General Building Contractors Association for his involvement in historic restoration. Over the course of his career, Farrell has undertaken projects at locations on the National Register of Historic Places, including Philadelphia's Chemical Heritage Foundation and the Church of St. Luke and the Epiphany. He has also overseen several projects at the American Philosophical Society, just a few minutes away from the Athenaeum.
We are thrilled to have such an experienced team behind the exciting enhancements unfolding in our space. Our staff, architects, and contractors have worked hard to operate well within the high standards set by the National Historic Landmarks Program. Click here to see renderings of what you can expect when construction is complete. Stay tuned for more updates on our progress!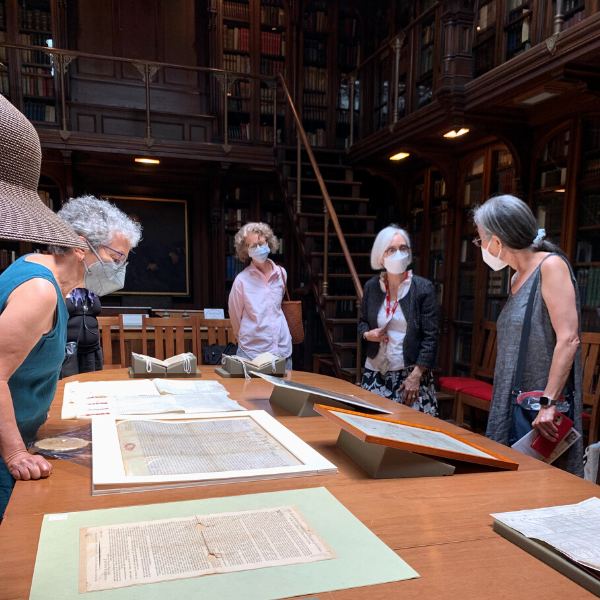 07/21/2022
Athenaeum Members Visit to the Kislak Center for Special Collections, Rare Books and Manuscripts
On Thursday, July 21st, Athenaeum Members took a tour of the Kislak Center for Special Collections, Rare Books and Manuscripts at the University of Pennsylvania. The staff pulled for us a selection of items pertaining to early Philadelphia and the founding of the University of Pennsylvania. An Athenaeum favorite, the Thomas Holme map of 1682, the original charter of the University (signed by Ben Franklin!) and the early rules students were forced to follow were all on display.
Attendees also got a brief tour of their current exhibition, Marilyn Monroe: From Stage to Silkscreen which features a number of exhibition posters depicting Andy Warhol's famous 1962 photo silkscreen paintings of actress Marilyn Monroe.
Also at the Kislak Center is their state of the art conservation lab, research facility, and the Furness Shakespeare Library. Thank you to the Kislak staff for showing us around your wonderful library, we WILL be back!
Athenaeum Shareholders and use their library card to access Van Pelt Library, but appointments are required to view items held at the Kislak Center.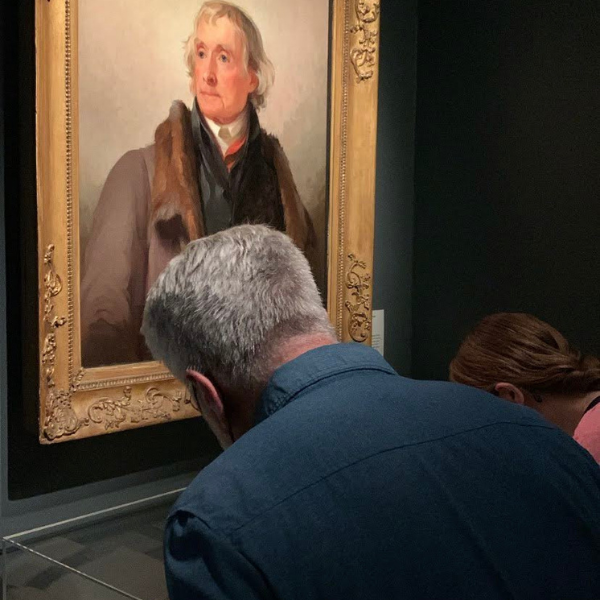 07/15/2022
Athenaeum Members Visit to the American Philosophical Society
On July 15th, Athenaeum Members took a visit to see the American Philosophical Society's current exhibition "Becoming Weatherwise: A History of Climate Science in America." Museum Educator Ali Rospond gave a guided tour of the exhibition, highlighting some of the particularly interesting items on display like James Madison's weather journal, a wall length map of a tornado's path, and an ex-APS-fellow's scientific studies. The exhibition takes visitors on a tour of climate history and how the work early scientists did is still being used today. The exhibition is open until December.
APS recommends reserving a time to see this exhibition, RSVP here.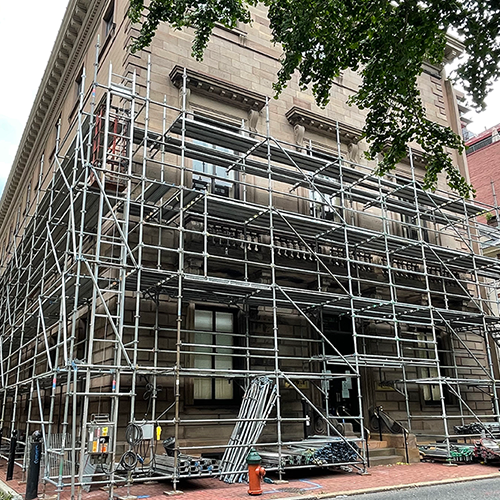 07/11/2022
Brownstone Conservation Begins at the Athenaeum
If you walked through Washington Square last week, you may have noticed that scaffolding was being constructed around the Athenaeum. This marks the start of an extensive effort to conserve our 175-year-old building, including maintaining the beautiful and historically significant brownstone that helps to make the Athenaeum so distinctive. Additional components of the project include replacing deteriorated brownstone at the base of the building, conserving exterior metalwork, repointing all of the mortar joints, and repairing or replacing damaged stucco. 
Kreilick Conservation is undertaking the project, and their team boasts an impressive resumé of local preservation projects, including 30th Street Station, Founder's Hall at Girard College, the Philadelphia Museum of Art, City Hall, and the Second Bank of the United States. When the project is complete, you can expect to enjoy a newly preserved exterior that will last for another 175 years—and beyond! Thanks to a new lighting system to be installed by electrical contractor Marc Hoyer, the expertly-maintained facade will be visible even at night.
This restoration of the Athenaeum's brownstone is supported by the William B. Dietrich Foundation.
07/01/2022
"In Her Own Right" Project Receives C.F.W. Coker Award
"The "In Her Own Right" project, conducted by the Philadelphia Area Consortium of Special Collections Libraries, Inc. (PACSCL), is the 2022 recipient of the C.F.W. Coker Award from the Society of American Archivists (SAA). The award recognizes finding aids, finding aid systems, innovative development in archival description, or descriptive tools that enable archivists to produce more effective finding aids."  Read more from the SAA...
The "In Her Own Right" project, completed in 2021, involved twenty-four partner institutions digitizing and describing manuscript and print materials from the nineteenth and early twentieth centuries leading up to the ratification of national women's suffrage in 1920.
The Athenaeum of Philadelphia contributed to this project with its collection of letters and correspondence from Sarah Josepha Hale. Hale (1788-1879) was a major literary figure of the 19th century. In 1828 she began editing The Ladies' Magazine of Boston (later Godey's Lady's Book in 1837), the first magazine for women to be edited by a woman. Godey's was based in Philadelphia and eventually she moved to Philadelphia to become more involved in her editorship of the magazine. Hale is also the author of Mary had a Little Lamb and the main person responsible for making Thanksgiving a national holiday. The collection contains letters relating to both her professional and personal life and spans a 43 year period. It also contains a small number of letters between her close relatives.
Learn more about Hale from our event with Melanie Kirkpatrick from November, 2021.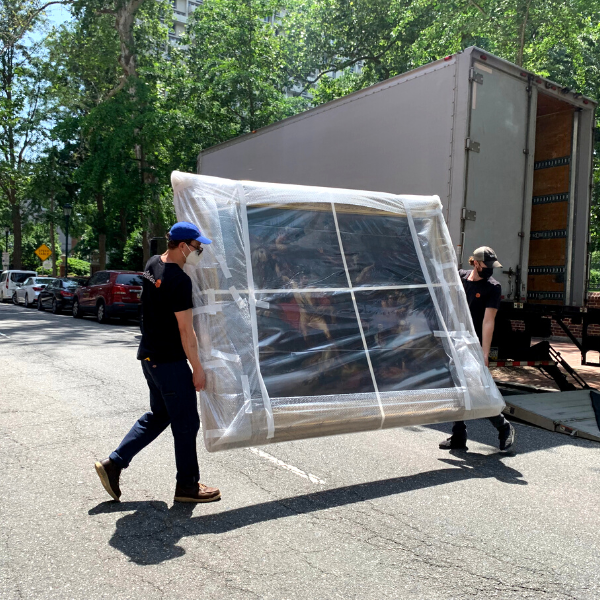 06/03/2022
Atelier Fine Art Services at the Athenaeum
On Wednesday, June 1, Atelier Fine Art Services came to the Athenaeum to help us move the more complex, delicate and priceless art objects in preparation for our renovations. Atelier handled these pieces with much care and consideration. The large stone in our 19th Century water cooler took all three movers to handle, and the Bouvier Desk was nicely tied up so nothing would come loose!
While most objects will spend the summer safely tucked away onsite, King Alexander and the Stag by Charles Robert Leslie (after Benjamin West) was moved offsite to the Atelier storage facility. Here it is being moved across Sixth Street into the awaiting truck.
Thank you Atelier for your assistance in this part of our project. We look forward to seeing our collections in their new locations throughout the building in the fall!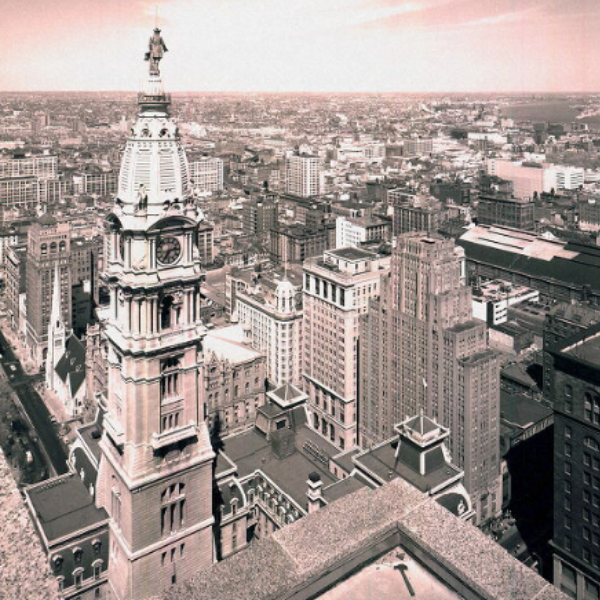 05/12/2022
Summer Research Hiatus
In-person research will be closed from Monday, May 9 through Friday, November 4. Research inquiries should be directed to Bruce Laverty.  All email research requests will be answered in a timely fashion remotely. For those requiring access to non-digitized archival collections, we will be pleased to set up in-person appointments as soon as we reopen.
Our digitized collections are available for browsing 24/7.