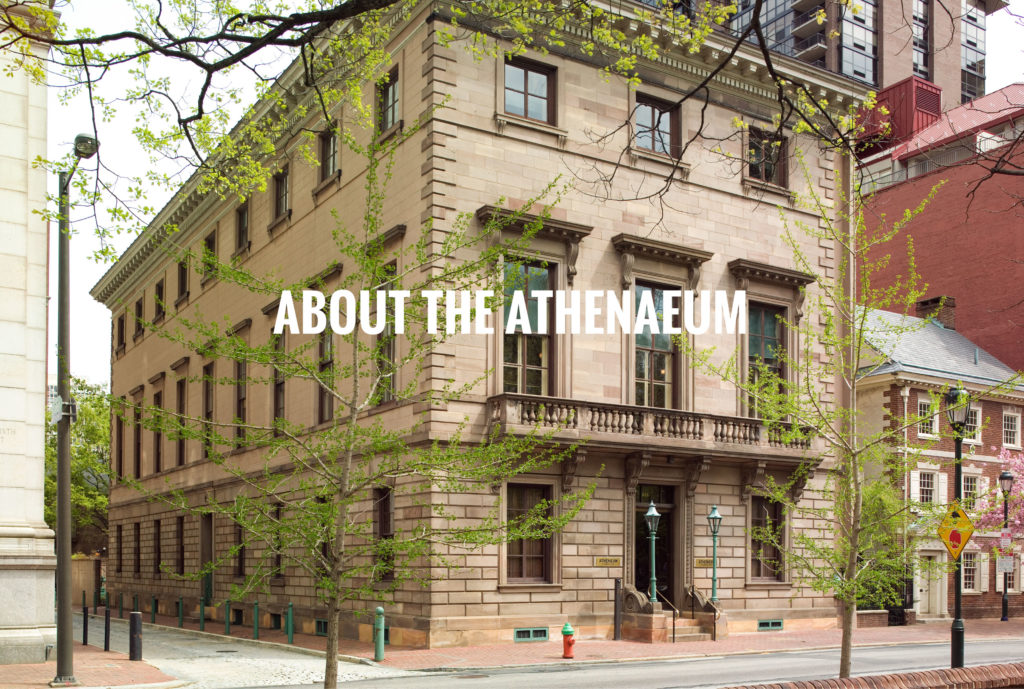 Welcome to the Athenaeum of Philadelphia. The Athenaeum was established in 1814 as a subscription library, at a time when the free public library system did not exist and collections of books, available for reading or research, were still mostly limited to institutions, schools or colleges.

The Athenaeum of Philadelphia nurtures curiosity in members and neighbors, strengthening community through learning and discourse.

The Athenaeum of Philadelphia is one of 16 membership libraries that collaborate through the Membership Libraries Group. Some, like the Charleston (est. 1748), New York Society (est. 1754), and Newport (est. 1741) libraries, date from the 18th Century.

THE ATHENAEUM OF PHILADELPHIA IS COMMITTED TO:
Looking Outward – We focus our resources on enriching the lives of members, visitors and the community.

Learning – We foster the pursuit of knowledge and lively conversation, which are indispensable to a rewarding life and a vibrant, well-functioning community.

Diversity – We seek a diverse membership and diverse points of view in keeping with our ever-changing community and world.

Culture – We promote engagement with great literature, history, art and architecture and the pressing issues of contemporary life.
Collaboration – We magnify our own vitality and that of our city through collaboration with other groups and institutions.

Creativity and Innovation – We believe new experiences and new perspectives deepen knowledge and understanding while strengthening community bonds.

Community and Place – Our place in the vibrant, diverse and historically important city of Philadelphia matters for our work and our members. We celebrate our location and the ideas and values that shape our urban landscape and its place in the larger world.

THE ATHENAEUM WAS FOUNDED IN 1814 TO COLLECT MATERIALS "CONNECTED WITH THE HISTORY AND ANTIQUITIES OF AMERICA, AND THE USEFUL ARTS, AND GENERALLY TO DISSEMINATE USEFUL KNOWLEDGE" FOR PUBLIC BENEFIT.

The Athenaeum of Philadelphia, an historic, member-supported library, was founded in 1814, decades before the advent of free public libraries. Its purpose, then as now, is to provide access to "general knowledge" through books, archival material and special collections for research and exhibits, public forums and lectures, as well as a congenial space for conversation and learning. Since the 1980s, the Athenaeum has also been celebrated for its world-renowned architectural archives which provide opportunities to examine the rich history of our city and world.
After outgrowing several homes, including inside the American Philosophical Society, the Athenaeum moved into its own building on Washington Square in 1847. Designed by the innovative architect John Notman (1810-1865), it is recognized as the seminal American structure in the Italianate Revival Style and one of the first Philadelphia buildings built of brownstone. The building was declared a National Historic Landmark in 1977.
Today, the Athenaeum continues to foster research, learning and conversation, focusing its strengths and resources on the needs and interests of a community that is increasingly diverse and ever more vibrant.
YOUR SUPPORT MATTERS!
The Athenaeum is a not-for-profit 501(c)(3) museum and library. We rely on support from members, foundations, corporations, government agencies, and individuals just like you. To learn more about how you can join or support The Athenaeum, click
here
.
WATCH OUR BICENTENNIAL VIDEO