Since 1814, The Athenaeum has been visited by politicians, diplomats, scientists, and literary figures. Our guest book was traditionally called the
Record of Strangers
: each non-member, or "Stranger" was usually signed in by an Athenaeum member. Here are some well-known Strangers who visited us over the years. To see who may have signed in on today's date, click
here
.
SEARCH OUR DATABASE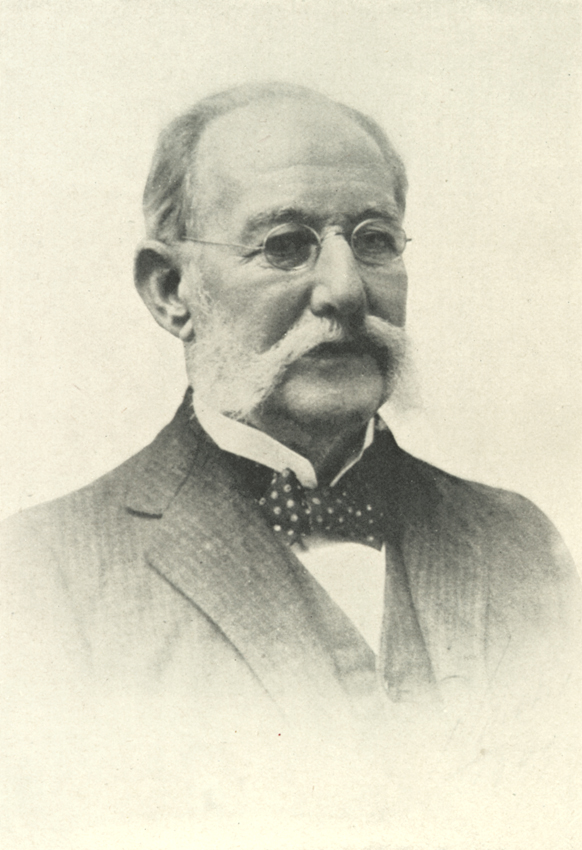 C [Carlos Juan] Finlay
(signed in by R. [Richard] Renshaw)
Monday September 4, 1854
Athenaeum
Science, Medicine & Exploration
Occupation: Epidemiologist
Residence: Havana [Cuba]
RECORD OF STRANGERS IMAGE
Volume 5 
Carlos Juan Finlay, December 3, 1833 — August 20, 1915
Carlos Juan Finlay was a Cuban epidemiologist. He received private tutoring until he came to Philadelphia in 1853 with his uncle, Philip de Barrès, to enroll at Jefferson Medical College. The two made this visit to the Athenaeum together the next year. Finlay received his medical degree in 1855, and studied ophthalmology in Paris, among other travels, before settling back in Havana and establishing a practice there in 1864. He began to study yellow fever and by the late 1870s was working on international committees to study the disease. In 1881 Finlay was the first to assert that the mosquito carried and transmitted yellow fever. His work was viewed skeptically and largely ignored until 1900 when Walter Reed of the U.S. Army Yellow Fever Board replicated Finlay's work and confirmed his assertion. Finlay went on to be named chief sanitation officer of Cuba, a position he held from 1902 to 1909, and was nominated seven times for the Nobel Prize in Physiology or Medicine.
---
Portrait courtesy of St. Clair County Community College — Source — Source — Source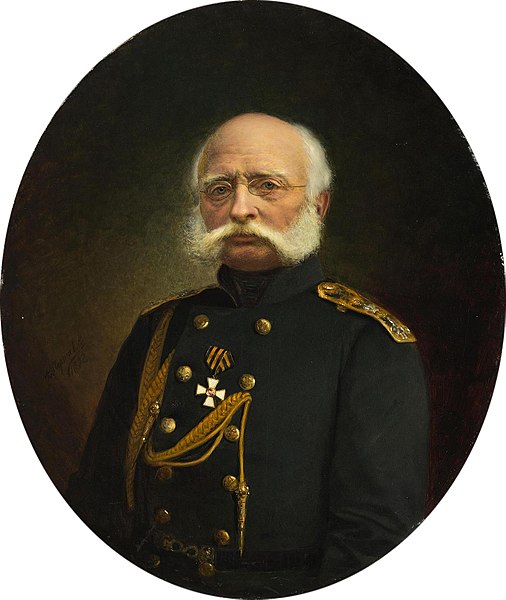 Baron [Ferdinand von] Wrangell [Wrangel]
(signed in by S. [Solomon] W. Roberts)
Tuesday September 15, 1846
Philosophical Hall
104 South Fifth Street, Independence Square, First Floor
Politics, Diplomacy & Law
Science, Medicine & Exploration
Occupation: Explorer and Governor
Residence: St. Petersburg [Russia]
RECORD OF STRANGERS IMAGE
Volume 4 
Baron Ferdinand von Wrangel, December 29, 1797 - May 25, 1870
Baron Ferdinand von Wrangel was an explorer, Minister of the Navy, and governor of Russian settlements in America. Wrangel also helped found the Russian Geographical Society, was responsible for the mapping of the northeastern coastline of Siberia, and led a naval expedition around the globe from 1825 - 1827. Wrangel was appointed chief manager of the Russian-American Company in 1829, and began to govern the Russian settlements in what is present-day Alaska. He introduced potato cultivation to the area, and began to build infrastructure before being recalled and assigned to other duties in 1834. Wrangel opposed the sale of Alaska to the United States in 1867 orchestrated by William Seward, whose name also appears multiple times in the Record of Strangers. The Record of Strangers indicates that Wrangel visited with a Lieutenant Pfeiffer, also from Russia.
Portrait courtesy of Wikimedia Commons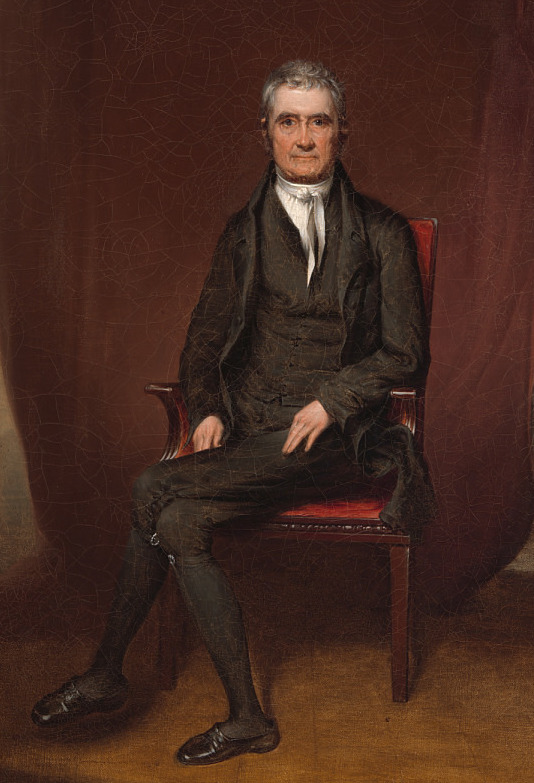 Chief Justice [John] Marshall
(signed in by Morgan Ash)
Thursday September 29, 1831
Philosophical Hall
104 South Fifth Street, Independence Square, First Floor
Politics, Diplomacy & Law
Occupation: Lawyer and Politician
Residence: Virginia
RECORD OF STRANGERS IMAGE
Volume 3 
John Marshall, September 24, 1755 - July 6, 1835
John Marshall was a United States lawyer and politician. Born in the colony of Virginia, Marshall fought in the American Revolutionary War for the Continental Army. After the war, his political career took off as he played a role in Virginia's ratification of the United States Constitution before being elected to the House of Representatives. He was briefly appointed Secretary of State under John Adams, before being appointed Chief Justice of the United States. Marshall is credited with establishing the judiciary branch of the United States government as equal in power and prestige to the other branches of the government, and to asserting the judiciary branch's authority to hold those other branches accountable to the Constitution and the law. Marshall was also instrumental in establishing the rights of and protections for corporations from state governments, by equating the rights of the corporations to the rights of individual stockholders. Although Marshall publicly acknowledged that slavery was against natural law, he owned slaves for most of his life. Marshall visited Philadelphia to receive medical attention in 1831, at which time he also visited the Athenaeum. He returned in 1835 to receive further medical attention, but passed away. The Liberty Bell was rung during his funeral, and some legends claim this was when it cracked, though other tales tell a different story of the bell's fracture.
Portrait courtesy of Smithsonian Open Access

Governor [Edward] Coles
(signed in by W [William] Short)
Friday September 18, 1829
Philosophical Hall
104 South Fifth Street, Independence Square, First Floor
Politics, Diplomacy & Law
Occupation: Politician
Residence: Illinois
RECORD OF STRANGERS IMAGE
Volume 5 
Edward Coles, December 15, 1786 – July 7, 1868
Edward Coles was an American politician. He was born into a wealthy family of enslavers and plantation owners in Virginia. Coles studied at William and Mary College before serving as a private secretary to James Madison. In 1817, he sold his inherited plantation in Virginia and travelled to Illinois, accompanied by 17 people that his family had enslaved. Coles later freed the enslaved people and helped them settle, and began to fight the pro-slavery movement within the Illinois government. He was elected governor in 1822, and helped ensure that Illinois remained a free state by a vote during the 1824 Constitutional Convention. Coles was also an advocate for establishing a state library in Illinois. His political career faltered after he lost multiple congressional elections, and he moved to Philadelphia in 1832. Based on the Athenaeum's records, it is believed that Coles became an Athenaeum shareholder in 1835. His name appears throughout the Record of Strangers as the introducing member for many strangers, as well as many times as a stranger himself.
---