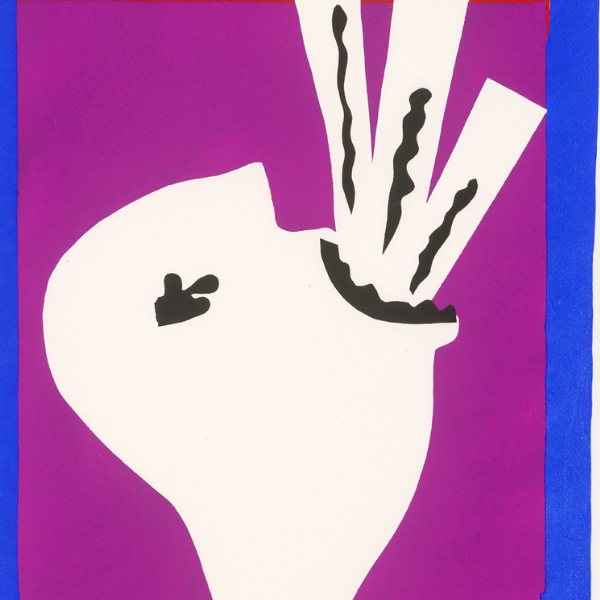 REGISTER
First Friday
December 2 at 5:00 PM
Henri Matisse's Jazz
Staff
The Athenaeum will be open until 7:00pm on Friday, December 2 for First Friday. Enjoy light refreshments, art, and your neighbors in our new Member Lounge.
Reservations not required.
Rhythm and Meaning: Henri Matisse's Jazz
The Athenaeum of Philadelphia is pleased to display all 20 plates of Henri Matisse's Jazz (1947). As a repository for rare books and a lively circulating library, The Athenaeum will showcase Jazz as an intermingling of the written word, bound volume, and work of art. This is the first time Jazz has been exhibited in full in Philadelphia since the mid-20th century; this copy of Jazz, the most well-known of Matisse's artist books, is from the collection of Athenaeum members Frances and Michael Baylson.
A collaboration between Matisse and his publisher, Tériade, Jazz was completed over the course of four years. Interspersed among the 20 paper cut out compositions are short passages, titled "Notes," that are presented in Matisse's own handwriting. Jazz's visual subject matter encompasses a wide variety of content: folktales, archetypal characters, and memories of the artist's travels. These are bound not only by the structure of the book, but also by the improvisational spirit at the heart of jazz as a musical form. Jazz is playful and ever-changing. It is through this lens that one might read Matisse's imagery and discover for themselves rhythm and meaning unfolding across the pages of this book.
This is a free event.
DONATE