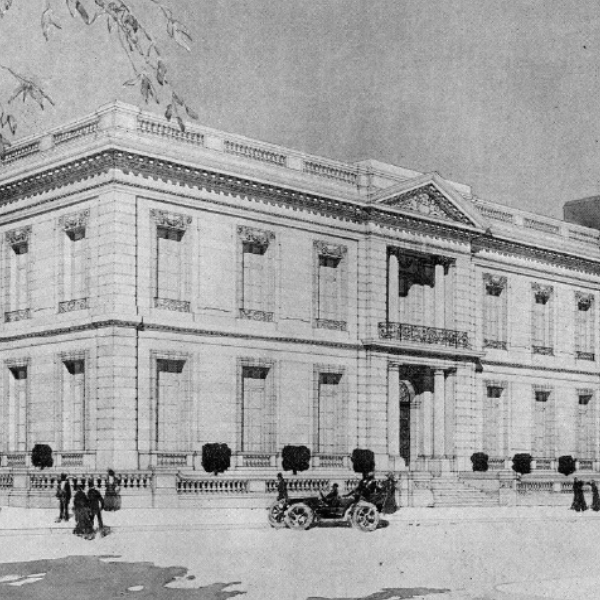 Virtual Speaker Series
January 14 at 12:00 PM
Magnificent Residences for Philadelphians Near and Far
David B. Rowland
Athenaeum members and their guests are cordially invited to virtually attend an illustrated presentation by the distinguished local historian David B. Rowland.
Horace Trumbauer (1868-1938) is considered one of the nation's finest interpreters of the classical styles of architecture that dominated the American Country House era from the late 19th century until the 1920s.  Rising from humble beginnings, Trumbauer quickly became the preferred architect of Philadelphia's moneyed elites. Several of his clients were Philadelphia Club members. The Trumbauer firm designed many notable residential, civic and commercial buildings in and around Philadelphia. Trumbauer's clients then took him with them to Newport, New York City and other areas.
The program, like the book, will focus on Trumbauer's work for Philadelphians in this area and elsewhere. Notable examples of Trumbauer's work include Widener's Lynnewood Hall, Harrison's Grey Towers, Montgomery's Ardrossan, Berwind's The Elms, Elkins' Elstowe Park, Paul's Woodcrest, and Stotesbury's Whitemarsh Hall.
David Rowland is President of Second Federal Savings & Loan Association of Philadelphia, located in the 1700 block of Chestnut Street. Outside of the office, he has been President of the Old York Road Historical Society since 1996.  In addition, he serves on the boards of The Athenaeum of Philadelphia, the Library Company of Philadelphia, and the Pennypack Ecological Restoration Trust. For the historical society he has authored or co-authored six local history books through Arcadia Publishing. He is a graduate
This event is in partnership with The Philadelphia Club.
Zoom presentation at noon. No impost for the talk. No need to RSVP.
Here's the Zoom meeting ID: 895 4810 9671 Password: 827654
The following link will take you directly to the Zoom webinar. It will request the password above.
Link: https://us02web.zoom.us/j/89548109671?pwd=TEc1ZDVVTWluelJKTTVYOHFEaFI3UT09